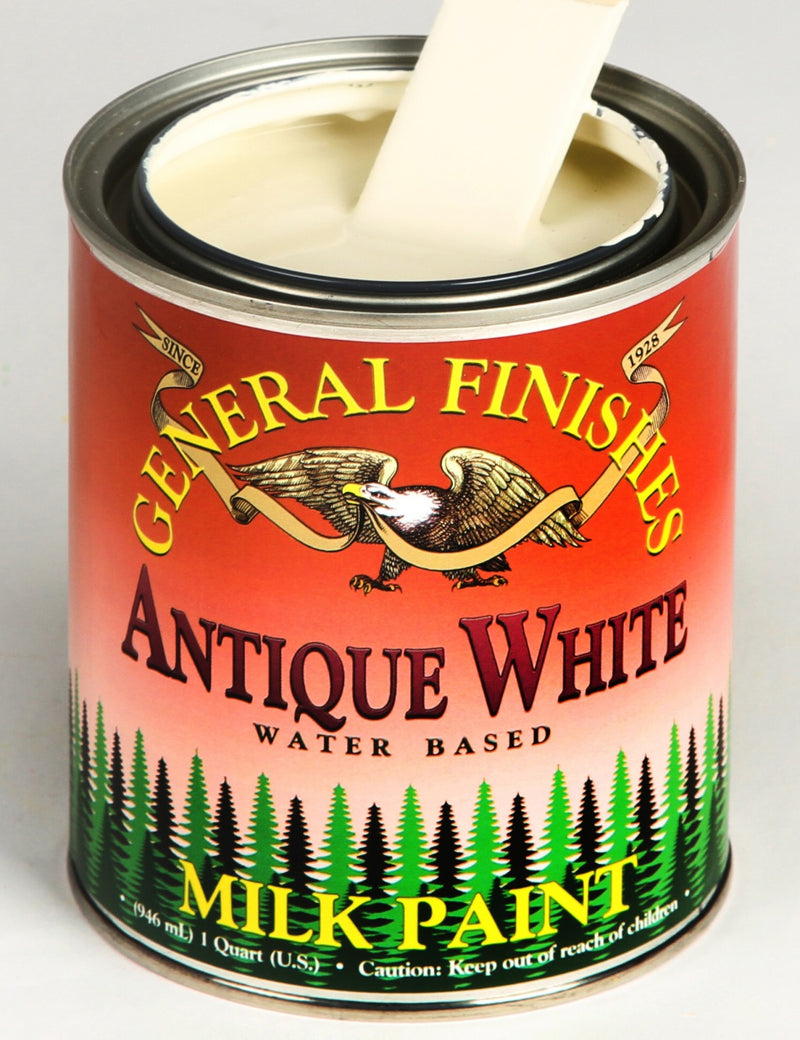 GF Water Based Milk Paints

Milk Paint is a durable acrylic paint that can be used for both interior and exterior projects. Milk Paint can be used alone, layered over another Milk Paint color, mixed with our "soon to be released" Chalk Style Paints or combined with a General Finishes Glaze for a faux look. Milk Paint can be applied over existing finishes, stains or other paints as long as they are completely dry. It will adhere to a variety of surfaces including wood, fiberglass, PVC, vinyl and most composite materials. Always test a small area first when going over other products to ensure the paint adheres well to the original surface. Before you start, carefully read the directions on the back of the can. Test the color to ensure it's what you want.
SMOOTH-GRAINED WOODS THAT PAINT WELL: Poplar, Aspen, Basswood, Maple and Birch.

FEATURES:
USE: Interior and Exterior
SHEEN: Satin.
COATS: 3 coats are optimum.
RECOAT/DRY TIME: 2-4 hours under ideal conditions (70F or 21C, 70% humidity). Cooler temperatures and higher humidity will prolong drying time up to 8-10 hours.
CURE TIME: Dependent upon dry time, temperature and humidity. At 70*F - 70% humidity, three coats of paint will cure in 14-21 days. If you are painting over an existing finish, treat it with care for at least 2 weeks. 
APPLICATION METHOD: Acrylic bristle brush, foam brush, paint pad applicator or spray.

 
ADHESION:  They will adhere to a variety of surfaces including wood, fiberglass, PVC, primed steel, vinyl and most composite materials. Always test a small area to ensure adhesion.

TOPCOAT: Milk Paint dries to a low-luster sheen and is durable enough to stand up to medium wear. However, if maximum durability is required, apply 1 or 2 coats of High Performance or Flat Out Flat topcoat.

EXTERIOR PROJECTS: Milk paint can be used alone or with Exterior 450 Topcoat.

CLEANUP: Soap and warm water

COVERAGE: 100 sq. ft/qt

SIZE: Pints, Quarts, Gallons 

VOC: <150g/l (1.25lbs/gal.)  ACTUAL VOC: <10 g/l (.06 lbs/gal)
WARNING: TEST FOR COMPATIBILITY WHEN USING THIS PRODUCT WITH PRODUCTS FROM OTHER BRANDS. General Finishes products should be tested to your complete satisfaction before using. General Finishes will not be responsible for any failure if our products are used in conjunction with other brands of finishes. We do not test General Finishes products with those of another manufacturer and will not accept liability if there is a compatibility issue. A good rule of thumb is âdon't mix brands as It might work, it might not. Most manufacturer's create families of products, with compatible ingredients and resins systems. We can't troubleshoot results if you use another manufacturer's products with ours.
WATER SPILLS AND DAILY USE: Clean water spills up as they occur during regular use and protect from heat. Although General Finishes products are water resistant, they are not impervious to water. Surfaces will not be damaged by spilled water so long as it is cleaned up promptly. We recommend using coasters to protect your wood from standing water and pot holders to protect from heat.
Please inquire for current availability.
General Finishes
Give us a call at 1-868-628-4795 or come see us at the store; we are happy to help.
Delivery service is at a Fee throughout Trinidad and Tobago - please inquire for pricing.
Available in 26 colors, General Finishes Milk Paint is a high quality interior/exterior pre-mixed paint. Not a true "casein based milk paint" but a modern version of old world paint with a strong mineral base. It is adaptable and UV resistant. It may be applied via brush or spray and possesses excellent flow and leveling properties.
Visit the General Finishes Design Center OR Pinterest Board for more furniture finishing ideas.
Click here for the color chart.
Made in the USA: Yes