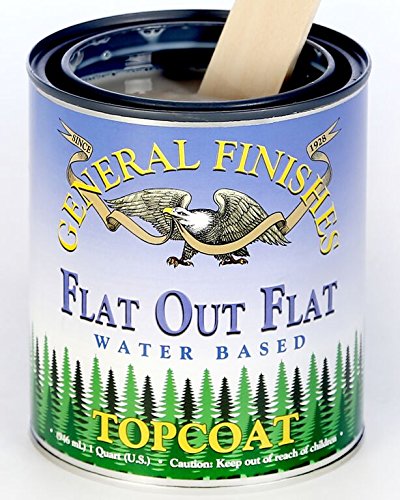 GF Water Based Flat Out Flat

COVER
AGE: 600 ft2/gallon or 14.72 m2/liter. STORAGE: Keep from freezing.
VOC: 210 g/l.
INGREDIENTS: Water - 7732-18-5, Acrylic Resin - proprietary, Glycol Ethers 

-Proprietary WARNING! If you scrape, sand, or remove old paint, you may release lead dust. LEAD IS TOXIC. EXPOSURE TO LEAD DUST CAN CAUSE SERIOUS ILLNESS, SUCH AS BRAIN DAMAGE, ESPECIALLY IN CHILDREN. PREGNANT WOMEN SHOULD ALSO AVOID EXPOSURE. Wear a NIOSH-approved respirator to control lead exposure. Clean up carefully with a HEPA vacuum and a wet mop. Before you start, find out how to protect yourself and your family by contacting the National Lead Information Hotline at 1-800-424-LEAD or log onto www.epa.gov/lead.

WARNING: This product contains a chemical known to the State of California to cause cancer and birth defects. Do not swallow; first aid: drink water to dilute product. May cause eye and skin irritation; first aid: flush eyes thoroughly with water.
LIMITED WARRANTY: General Finishes products must be tested to your complete satisfaction before using, including compatibility with other manufacturers products. General Finishes will be responsible only for the cost of our products and will not be responsible for any costs such as labor, damage, or replacement costs.

WATER SPILLS AND DAILY USE: Clean water spills up as they occur during regular use and protect from heat. Although General Finishes products are water resistant, they are not impervious to water. Surfaces will not be damaged by spilled water so long as it is cleaned up promptly. We recommend using coasters to protect your wood from standing water and pot holders to protect from heat.
Please inquire for current availability.
General Finishes
Give us a call at 1-868-628-4795 or come see us at the store; we are happy to help.
Delivery service is at a Fee throughout Trinidad and Tobago - please inquire for pricing.
FOF is a truly "Flat" water based topcoat with a velvety look and feel. Made with a durable self cross-linking acrylic, its performance characteristics are similar to High Performance. In addition it may be used over or under High Performance.
Visit the General Finishes Design Center OR Pinterest Board for more furniture finishing ideas.
Made in the USA: Yes