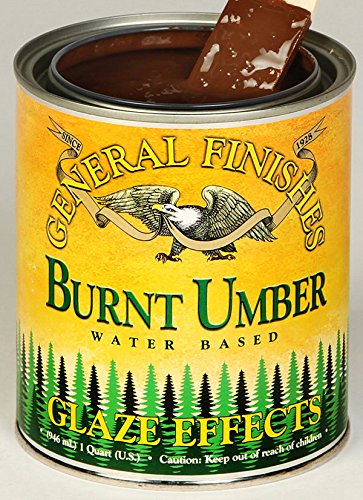 GF Water Based Glaze Effects

APPLYING GLAZE EFFECTS
Apply glaze liberally using an acrylic bristle brush, poly foam brush, Handi-Painter applicator, or spray it on using a HVLP 2.0 needle.
If finishing a large area, add GF Extender to give you more open time to wipe glaze off.
Another option is to apply a coat of High Performance Topcoat before you glaze - this will give your more control in low humidity situations.
Work glaze over entire area and into deep nail holes with a poly foam brush.
Wipe off excess with absorbent paper towel. Let dry 1-2 hours before applying a top coat. 
We recommend adding a total of 3-4 coats of High Performance Top Coat on your project. Therefore, if 1-2 coat of top coat was applied before glaze, then we recommend adding at least 2 more coats over the glaze. 
SIZE: Pints, Quarts, Gallons
WARNING: TEST FOR COMPATIBILITY WHEN USING THIS PRODUCT WITH PRODUCTS FROM OTHER BRANDS. General Finishes products should be tested to your complete satisfaction before using. General Finishes will not be responsible for any failure if our products are used in conjunction with other brands of finishes. We do not test General Finishes products with those of another manufacturer and will not accept liability if there is a compatibility issue.
Please inquire for current availability.
General Finishes
Give us a call at 1-868-628-4795 or come see us at the store; we are happy to help.
Delivery service is at a Fee throughout Trinidad and Tobago - please inquire for pricing.
Glaze Effects are translucent water based colors used to create beautiful decorative finishes such as distressing, marble, shabby chic, burnishing, color washing, rag rolling and wood graining. Glaze Effects can be inter-mixed or layered to create custom colors. They may also be layered over one another to create deeper, richer looks.
Visit the General Finishes Design Center OR Pinterest Board for more furniture finishing ideas.
Click here for the color chart.
Made in the USA: Yes