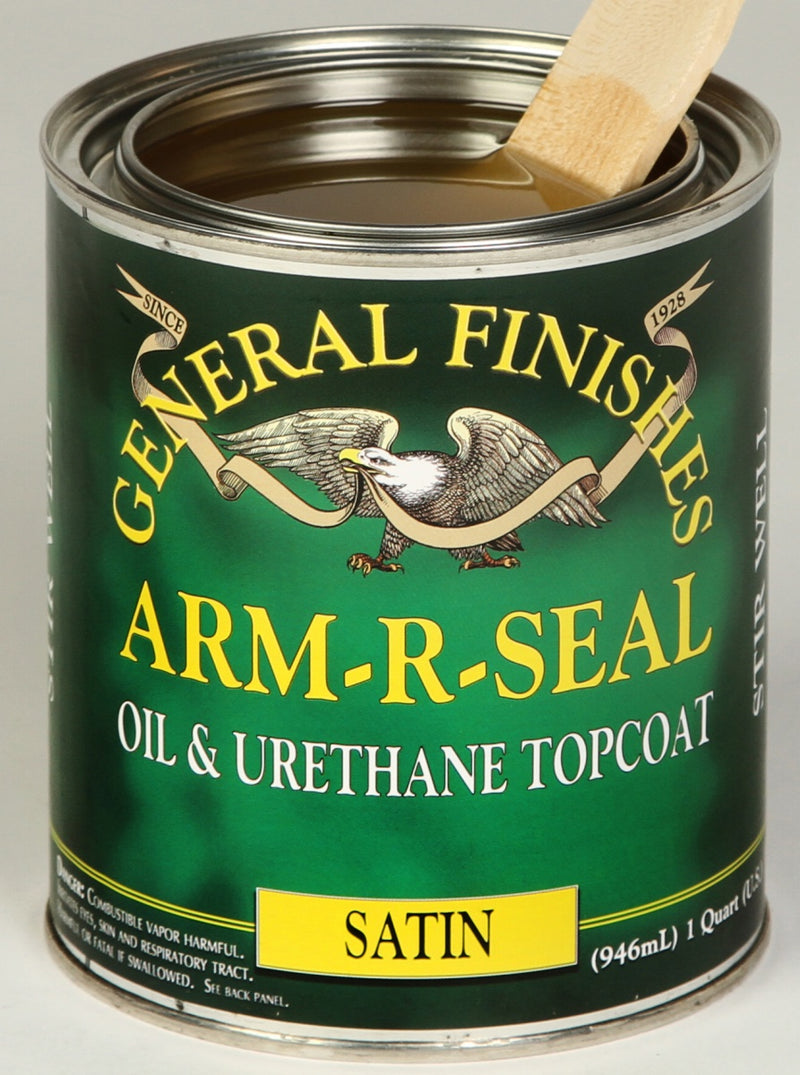 GF Arm-R-Seal Urethane Topcoats

Arm-R-Seal is a heavy duty oil and urethane oil base top coat, which produces a beautiful hand rubbed quality finish.
Sheens: Satin, semi-gloss and gloss sheens.
Sanding: On bare wood sand to 150 or 180. Can be wet sanded into the wood using 400-600 grit. Wipe off excess after sanding.
Sealer: General Finishes Seal A Cell Clear, Pre-stain Natural Conditioner, or can be used as a self sealing finish. Can also be used over Danish Oil, Lin- seed Oil & Tung Oil once they are dry.
Color tone: Warm amber tone. This finish will continue to darken over time.
Application: Wipe on with a cloth, natural bristle brush, foam brush, paint pad applicator, or spray*
Coats: Minimum 3 coats, additional coats can be applied
Dry time to touch: 1-2 hours
Dry time to recoat: 12-24 hours. Allow more dry time if it is humid
Dry time for light use: 72 Hours
Cure time: 30 days
Cleanup: Mineral Spirits
 
Coverage: 200 sq. ft/qt
Size: Pints, Quarts, Gallons 
VOC: < 575grams/liter
Recommended uses: Windows, bookcases, wall shelves, furniture, toys, ta- bles, dressers, stools, millwork, doors.
*Spraying Arm-R-Seal:
Arm-R-Seal can be sprayed successfully, but we prefer hand application methods because it is very easy to spray too much in one area. If you choose to spray, use very thin coats and watch for runs (large drips that run down the side of your project). If you notice a run, immediately wipe or brush it out. If you correct a run promptly, you will not see a mark. However, dried runs can be difficult to remove. Important: Wear a mask and work in a well ventilated spray booth. Size: Small Needle Nozzle (1mm) 

WARNING: TEST FOR COMPATIBILITY WHEN USING THIS PRODUCT WITH PRODUCTS FROM OTHER BRANDS. General Finishes products should be tested to your complete satisfaction before using. General Finishes will not be responsible for any failure if our products are used in conjunction with other brands of finishes. We do not test General Finishes products with those of another manufacturer and will not accept liability if there is a compatibility issue.
WATER SPILLS AND DAILY USE: Clean water spills up as they occur during regular use and protect from heat. Although General Finishes products are water resistant, they are not impervious to water. Surfaces will not be damaged by spilled water so long as it is cleaned up promptly. We recommend using coasters to protect your wood from standing water and pot holders to protect from heat.
Please inquire for current availability.
General Finishes
Give us a call at 1-868-628-4795 or come see us at the store; we are happy to help.
Delivery service is at a Fee throughout Trinidad and Tobago - please inquire for pricing.
rm-R-Seal topcoats are made with only the highest quality urethane resin, making them extremely durable and long lasting. They are formulated to be wiped on with a cloth or applied with a foam brush, thus eliminating drips and sags. They penetrate to provide deep down protection and that "natural" look.
Visit the General Finishes Design Center OR Pinterest Board for more furniture finishing ideas.
Made in the USA: Yes