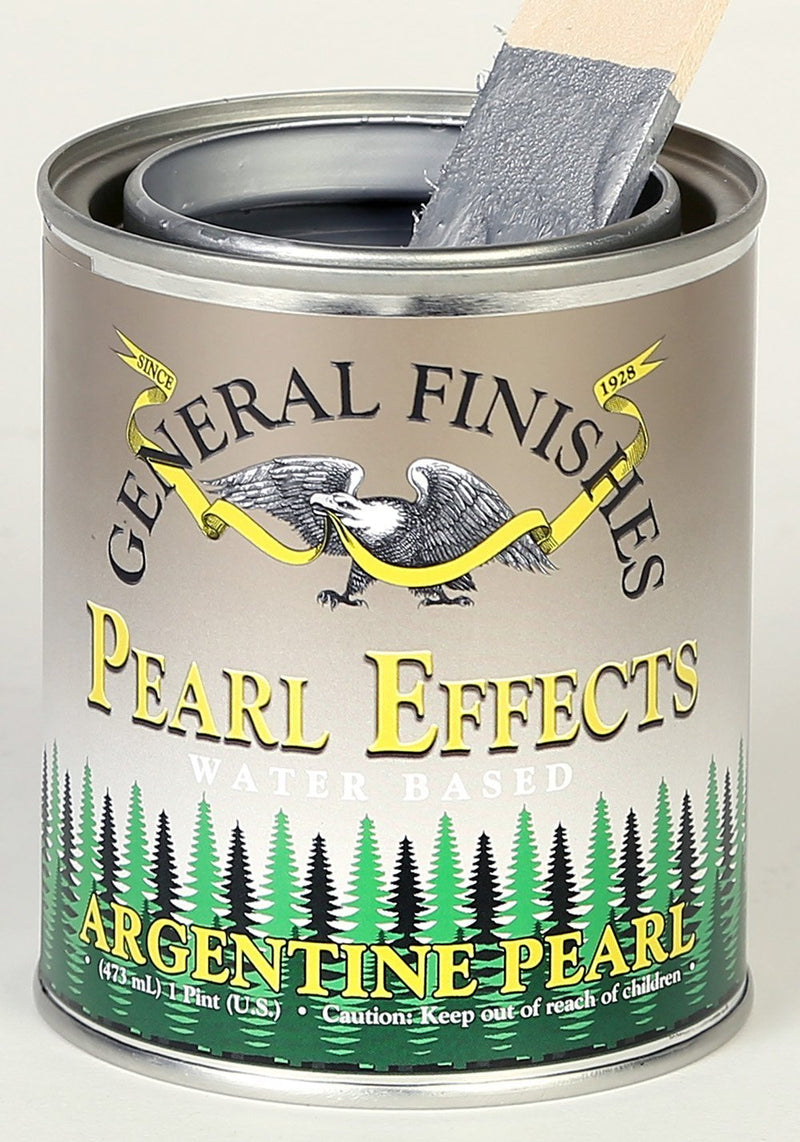 GF Water Based Pearl Effects

Visit our FAQs page for answers to all your Pearl Effects questions!
DRY TIME: Dry time is normally 2-4 hours under ideal conditions (70°F or 21°C, 70% humidity). Cooler temperatures and higher humidity will prolong drying time up to 8-10 hours. Recoat time is 12 hours.
THINNING: Some spray applications may require slight thinning. If necessary thin with water (distilled water is recommended) or GF Extender 5-10% by volume. Clean all equipment immediately with warm soapy water after use.
TOP COATS: For best results we recommend GF High Performance or GF Enduro water base topcoats.
CLEAN UP: Warm soapy water.
COVERAGE: 45 sq. ft/Pint or 4.18 m2/liter (PINTS) 90 sq. ft/Quart or 8.36 m2/liter (Quarts).
SIZE: Pints, Quarts, Gallons 
STORAGE: Keep from freezing. VOC: Less than 120 grams/liter.
INGREDIENTS: Water-7732-18-5, Glycol Ethers- proprietary, pearlescent mica, titanium dioxide.
IMPORTANT NOTES:
Can be sprayed through compressed air, HVLP or airless equipment. Fluid tip sizes should be as following: Compressed air -.050, HVLP -.072, Airless -.013 Check your equipment supplier for correct tip sizes.

For complete finishing instructions visit our website at www. generalfinishes.com or ask your retailer for a GF product brochure.
INTERIOR USE ONLY
SURFACE PREPARATION: Surfaces must be clean, free of moisture, grease and oil, wax, loose particles or other contaminates. On raw wood sand all surfaces with the grain starting with #120 finishing no finer than #220 grit paper. For existing finishes sand all surfaces with #320 or extra fine to super fine sanding pads.
APPLICATION:
STIR WELL prior to use.

Pearl Effects can be applied by foam brush, bristle brush, pad applicator or spray. For large surfaces we recommend spray application to achieve a more uniform finish.

Pearl Effects works best over a sealed surface. Use 1-2 coats of GF High Performance to seal your project before applying GF Pearl Effects. For best results sand all surfaces between coats with #320-400 grit paper or a super fine sanding pad to improve adhesion. Glossy surfaces must be sanded before applying GF Pearl Effects.

Apply GF Pearl Effects liberally using smooth, even strokes going with the grain. Use enough material to provide a wet film. DO NOT over brush. Apply and move on.

For dry brushing technique reduce Pearl Effects 5% with GF Extender. Apply with a bristle brush and lightly dust the surface with Pearl Effects.

For extra protection after apply Pearl Effects, seal with 1-2 coats of GF High Performance. Lightly sand between coats using #320-400 grit paper or super fine sanding pad.
WARNING: TEST FOR COMPATIBILITY WHEN USING THIS PRODUCT WITH PRODUCTS FROM OTHER BRANDS. General Finishes products should be tested to your complete satisfaction before using. General Finishes will not be responsible for any failure if our products are used in conjunction with other brands of finishes. We do not test General Finishes products with those of another manufacturer and will not accept liability if there is a compatibility issue.
If you scrape, sand, or remove old paint, you may release lead dust. LEAD IS TOXIC. Contact the National Lead Information Hotline at 1-800-424-LEAD or log onto www.epa.gov/lead.
This product contains a chemical known to the State of California to cause cancer and birth defects. Do not swallow; first aid: drink water to dilute product. May cause eye and skin irritation; first aid: flush eyes thoroughly with water.
Please inquire for current availability.
General Finishes
Give us a call at 1-868-628-4795 or come see us at the store; we are happy to help.
Delivery service is at a Fee throughout Trinidad and Tobago - please inquire for pricing.
Pearl Effects are water based decorative, acrylic pearlescent colors used to create specialty finishes. Available in Argentine, Bronze, Burnished, Champagne, Copper and Tawny; you are sure to find one to add the finishing touch to your project.
Visit the General Finishes Design Center OR Pinterest Board for more furniture finishing ideas.
Click here for the color chart.
Made in the USA: Yes