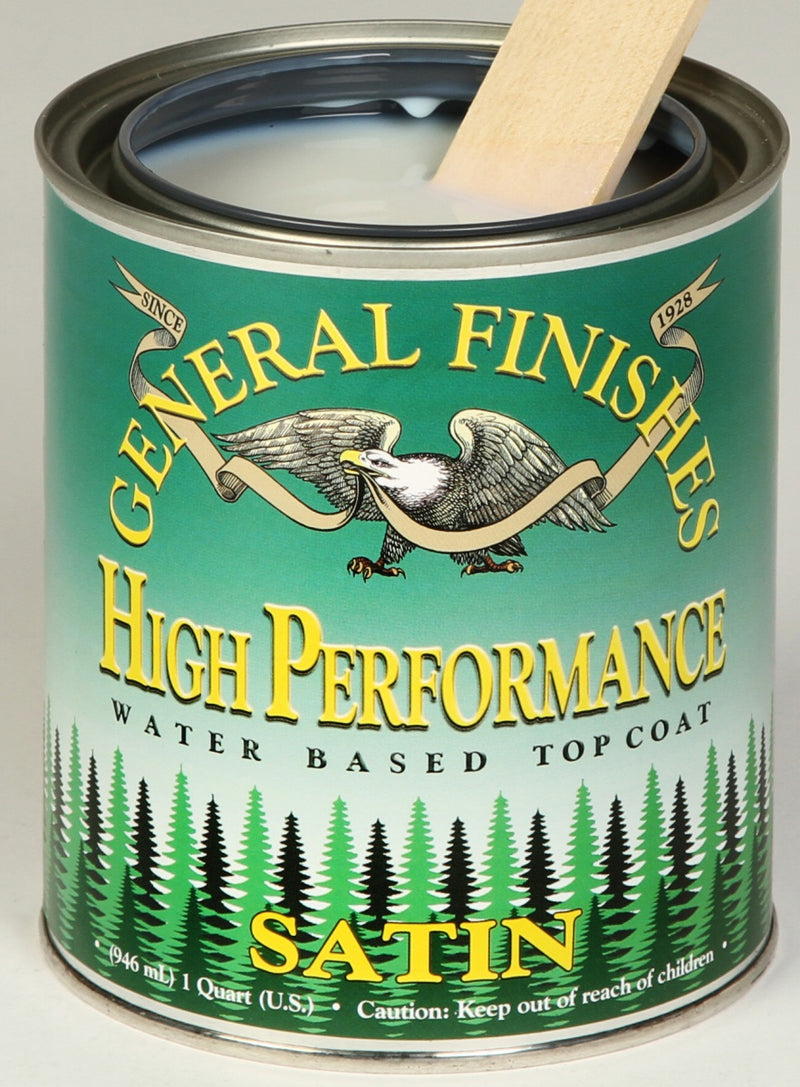 GF Water Based High Performance Topcoats



Color: Water White (dries clear). Note: Water topcoats can pull tannins from surfaces that are not properly prepped.

Sheen: Flat, satin, semi-gloss, gloss

Recoat/Dry Time: 2-3 hours

Dry time for use: 7 days

Cure Time: 21 days

Cleanup: General clean-up with soap and warm water recommended. Rinse thoroughly with clean water. For best results, clean all equipment with General Finishes Brush and Gun Cleaner. 

Coverage: 150 sq ft/qt

Recommended Use: Interior use only, Wood applications

Topcoat Recommendation: High Performance is self sealing and can be used alone, but it can also be used with GFs Sanding Sealer. 

VOC: < 275g/l (2.25 lb/gal)
WARNING: TEST FOR COMPATIBILITY WHEN USING THIS PRODUCT WITH PRODUCTS FROM OTHER BRANDS. 
General Finishes products should be tested to your complete satisfaction before using. General Finishes will not be responsible for any failure if our products are used in conjunction with other brands of finishes. We do not test General Finishes products with those of another manufacturer and will not accept liability if there is a compatibility issue.

WATER SPILLS AND DAILY USE: Clean water spills up as they occur during regular use and protect from heat. Although General Finishes products are water resistant, they are not impervious to water. Surfaces will not be damaged by spilled water so long as it is cleaned up promptly. We recommend using coasters to protect your wood from standing water and pot holders to protect from heat.
Please inquire for current availability.
General Finishes
Give us a call at 1-868-628-4795 or come see us at the store; we are happy to help.
Delivery service is at a Fee throughout Trinidad and Tobago - please inquire for pricing.
Winner of Fine Woodworking's Best Overall Choice Award, High Performance Top CoatClick and drag to move is the hardest, most durable consumer polyurethane top coat on the market today. It contains a UV Stabilizer to retard the finish from breaking down in sunlight. And with its pure polyurethane durability, it can even be used on floors.
Visit the General Finishes Design Center OR Pinterest Board for more furniture finishing ideas.
Made in the USA: Yes